MTG CORNERInspiring People
Martha Tilaar Group is my Second Home and a Great Place to Learn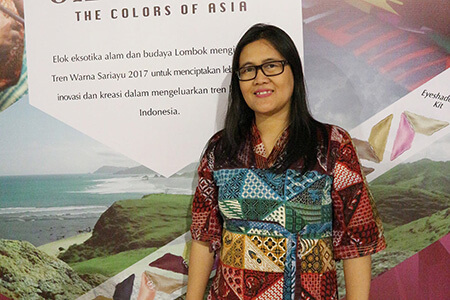 International Organization for Standarization (ISO) is an international independent organization and a world federation of national standardization agencies. ISO has issued 21,000 standards, including ISO 9001 and ISO 14001. Since 1996, Martha Tilaar Group has implementing ISO 9001 and 14001. Corporate System & Procedures Standardization Manager of Martha Tilaar Group, Anik Firdiyati, explained the crucial role of ISO for a company and how Martha Tilaar Group has implementing Quality Assurance System ISO 9001 and Environment Management System ISO 14001.
"When I was officially joined Martha Tilaar Group in 1995, the company has yet to implement ISO, but the process to obtain the certificate has already started and I was involved in the process. I joined Research & Development (R&D) of Packaging Materials & Finish Good at that moment. We prepared the guidance for materials, making new standards for packaging materials, etc. as a preparation for ISO 9001 certification.
As a cosmetic and herbal manufacturer, PT Martina Berto, Tbk., has implementing ISO 9001 since 1996 and constantly do ISO's upgrading standard until now. This year, PT Martina Berto, Tbk., has followed the recertification and upgrading standard process from ISO 9001:2008 to ISO 9001:2015. Beside ISO 9001, PT Martina Berto, Tbk., has also implementing the environment management system, ISO 14001 since 2002 and doing upgrading standard continuously.
Both ISO 9001 and ISO 14001 play an important role in determining the company's credibility in global competition and become the way to improve the quality management system and environment management system.
The enthusiasm and spirit of me and my colleagues while prepared to obtain ISO 9001 is still fresh in my mind. We were all so eager and prepared all the requirements to get the certification. We felt so proud and moved after all the hard work was paid off.
I have a really high hope that Martha Tilaar Group will continue to grow and develop to Beautifying Indonesia. Through ISO 9001 and ISO 14001, the company will have a sustainable internal improvement. To me, ISO 9001 and ISO 14001 are more than just certificates, but we have to really implement it in the management.
For the past 22 years, Martha Tilaar Group has become my home and my source to learn. I was joining an MT (Management Trainee) program before officially become R&D staff. There are a lot of happiness and hardships that I have encountered, but there are more positive things that I get, so I still can give my contribution to Martha Tilaar Group until this moment. I believe that working with passionate heart will give a maximum result for the company. I hope local cosmetic will be recognized in global competition."
IMG